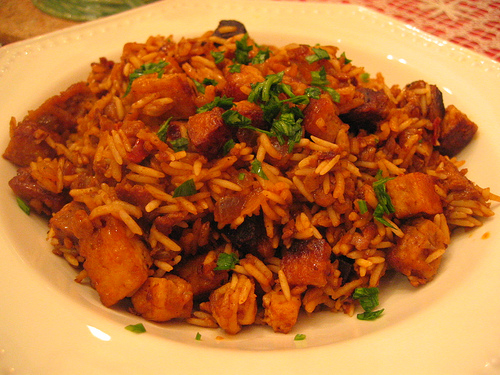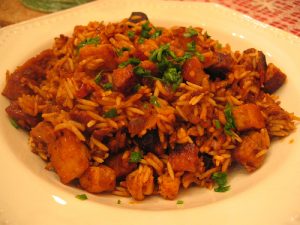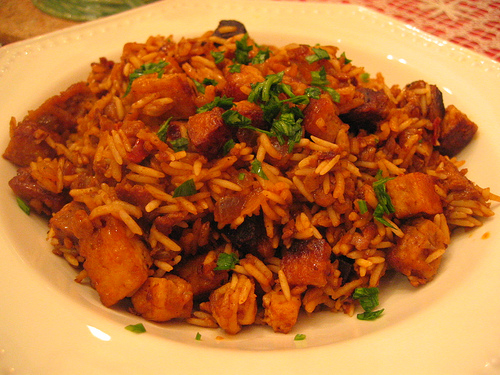 RED KIDNEY BEAN & AUBERGINE PILAF
Ingredients:
450ml water
250 gms brown long –grain rice
1\2 teaspoon turmeric
1 tablespoon vegetable oil
1 large onion, finely chopped
1 celery stick, chopped
1 green pepper, deseeded and chopped
1 aubergine diced
2 tomatoes, skinned and chopped
125 gms mushrooms, sliced
200 gms canned kidney beans, rinsed and drained
2 tablespoon chopped parsley
freshly ground black pepper
Method
place the water in a large saucepan and bring to the boil. Add the rice and turmeric and stir well to prevent the rice from sticking. Cover and simmer for 30 minutes without stirring. Remove from the heat
Meanwhile heat the oil in a nonstick frying pan, add the onion, garlic, celery, pepper and aubergine and cook gently for 3 minutes without browning. Add the tomatoes and mushrooms, stir well and cook for 3-4 minutes
Stir the beans and the vegetable mixture into the rice, cover and cook very gently for 10 minutes.
Remove from the heat and leave for 5 minutes. Season to taste with pepper and stir in the parsley. Transfer to a warmed serving dish to serve.
NutriTip:  Beans are a good source of proteins, especially when they are served with a cereal food such as rice, bread or pasta. They are low in fat, high in fiber and rich in many nutrients, providing iron, zinc, calcium, folate and soluble fiber.