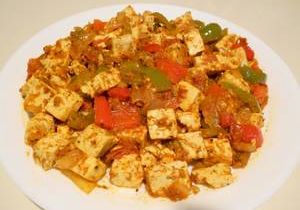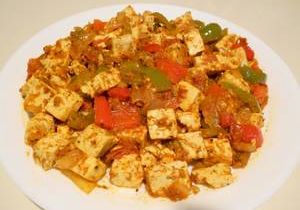 Capsicum & Tofu Delight
Can be served as Appetizer, Starter or Main course
Makes: 3 cups
Serving size: 1 cup
Ingredients:
1 medium sized green bell pepper (diced)
1 medium sized yellow bell pepper (diced)
6 medium sized tomatoes
200 gms tofu (cut into square pieces)
½ tablespoon oil
1 ½ tablespoons tomato sauce or red chilli sauce
1 ½ tablespoons coriander powder
1 ½ teaspoons red chilli powder
¼ teaspoon black pepper powder
½ teaspoon powdered sugar
Method
1. Make tomato purée of about 4 tomatoes by cutting them
into big pieces and boiling, grinding and then sieving them.
Add sugar to it. Cut the remaining 2 tomatoes into big
square pieces and keep aside.
2. Heat the oil in a vessel. Stir-fry the bell peppers for 2-3
minutes.
3. Add the tomatoes pieces and again stir-fry for 1 minute.
4. Add the chilli powder, coriander powder, pepper, tomato
purée and ½ cup water and let it boil for 3-4 minutes.
5. Then add the tomato sauce or red chilli sauce, salt and
the tofu.
6. Remove from heat after 2 minutes and serve hot.
NutriTip: Capsicum Tomato & Tofu Delight is not only an easy preparation but highly nutritious as well. Capsicum and tomatoes are rich sources of vitamin C while tofu (also known as soya paneer) is an excellent source of vegetable protein.
Make-a-meal: Eat this dish with rice or noodles along with a bowl of yogurt to give you a complete meal.